The following is a Tom Blake Paddleboard. Manufactured under Tom Blakes patent by the Catalina Equipment Company and dates to some time in the early 1940's. Over the years the board had several aftermarket additions including being heavily fiberglassed on the rails and serveral coats of paint. Most likely in an attempt to keep the board from taking on water. The oringinal construction of these boards would have used close tolerance wood construciton with brass screws and LOTS of spar varnish to try and keep out water. Still these boards were infamous for taking on water.
As you can tell, time took its toll on this board. I wanted to return the board to at least part of its original glory. This meant stripping all the old paint and carefully sanding off all that old fiberglass. Once that was completed, I was able to get a good look at the condition of the wood. Suprisingly enough, because it had been coated in such a way much of the original wood was in very good shape. The only area of wood that was not in great shape was the deck, probably two reasons, first not too much paint put on the deck and two, just like boards today, time probably took its toll on the deck just from use. I did find that, although they had been sealed by fiberglass, all the bottom side brass screws, for the most part, completely corroded. For this I painstakenly cored out every single bottom side screw and filled each hole with high density wood epoxy. I then replaced with brass screws that matched the originals.
In addtion, the bottom side had a hole about one foot up from the tail. It appears to have been an attempt at an after market fin of some sort by the position of the hole. This was common for many of these boards as when the fin was introduced, many people tried to retro-fit existing boards. Anyway, this is where you see the birtch ply plaque I put on the board. This was done to preserve the restoration date and I couldn't think of anything better to do in order to replace the existing hole. After a little more wood work and fine sanding, I attempted to match the stain to what I expected to see on an original board. I compared stain colors from several old pictures and looking at some original boards from this era. I also added the keyhole stain pattern on the deck commonly seen on Tom Blakes boards from that era. This whole process was followed up with several coats of heavy marine spar varnish to finish her off.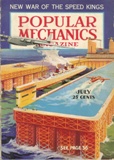 Popular_Blake_Paddleboard.pdf



Currently on Page 1
( Page 1 )